What is the Performance report?
This report shows the response rates for your surveys. It is great for monitoring the uptake of all surveys, or ones of interest. It's pivotal that you get the maximum amount of responses back for the surveys you send out, so this report can help in highlighting ones that might be struggling.
How do I access this report?
This screen can be reached by hovering on 'Surveys' in the side menu and choosing 'Performance' from the options that appear:

What information does this report give me?

On this screen, you can view survey performance data for your current date range and any filters that you have applied:
1. See total request and response counts across all your surveys. This can be found in the top-most box on the page:

'Requests' refers to how many surveys have been served to people
'Responses' is the count of how many of those were responded to
'Completed' indicates how many of the responses answered the entire survey
'Feedback Percentage' is a division of requests by responses, to give you an uptake figure at a glance
2. View a breakdown of response rates for each survey individually. This information can be found in the box below the overall totals.
3. Export this data to use locally. This can be done by clicking the 'Actions' button in the top right and choosing 'Export table'. You can also print the page via this menu: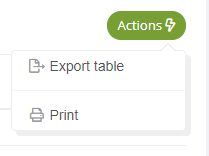 Ready to put this into practice?