What are filters?
Filters allow you to segment your data. Filters are defined when your surveys are initially created and are based on your company infrastructure or how you categorise your data. You can also filter ServiceTick data by alerts received, surveys and survey groups.
How do you access filters?
Filters can be accessed from anywhere in the console, by clicking on the 'Filters' button at the top-right of any page:

Filters explained:

1. Search bar
Start typing here and the hierarchy will be filtered to show results that match your search: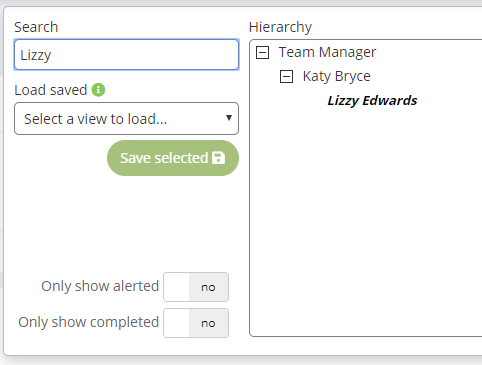 2. Load saved views
If you have any saved views these will appear in this dropdown. Select a view and it will populate the Selected Filters with the appropriate nodes. See My Views for more information on how to create these.
3. Save selected filters as a view
If you have any filters selected these can be saved as a view directly from this window, without having to go to the My Views page. Clicking 'Save selected' loads space for you to give this new view a name and save it:
This will then show in the 'Load saved' dropdown.
4. Filter options
Use these checkboxes to narrow your results to only contain responses that have been alerted upon and/or completed.
5. Hierarchy
This allows you to navigate and select the filters you would like to apply. Click on a node to add it to the 'Selected filters' list. Clicking the + icon next to a parent filter will expand it to show its child nodes and clicking again will hide them.
6. Selected filters
This section shows you the filters that you have chosen. If a child node has been chosen, its parent appears above it in plain text. Each selected filter has an 'x' next to it, which can be used to remove it from the selection.
7. 'Apply' button
Clicking this button will apply the selected filters and reload the page to show only the appropriate data.
8. Remove all filters
Click this to remove all selected filters.
9. 'Close' button
Click this button to dismiss the filters menu without applying any changes.
Ready to put this into practice?