What are Pins?
Pins are used on some console pages as a way of tailoring the results that you see. You are able to configure your Pins and update them at any time. Pins work a lot like filters - any filter node is able to be used as a Pin, and you set them up in a window very similar to the Filters menu.
How do I set up Pins?
Pins can be configured on any page that implements them, and any changes to your Pin setup are applied to all pages.
You can access the Pins menu by clicking the Pins button, which can be found in the header menu, to the left of the Filters button: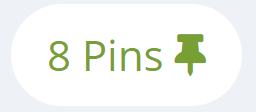 The button displays a count of how many Pins you currently have saved. When you click the button, the Pins menu will appear:

Any node within the 'Hierarchy' pane can be selected as a Pin by left-clicking it
Click the '+' button to expand a parent node to see the children
Click the '-' button to collapse the parent node
You can also use the Search box to find a node
Once you have selected a node, it will appear in the 'Selected pins' pane
Click the 'Apply' button to save your selections
Click 'Remove all' to clear the 'Selected pins'
Click 'Close' to leave without making any changes