In this article, we explore how to view individual survey responses. Our dashboard and insights pages are instrumental in analysing scores and trends en masse, but this will teach you how to get into the nitty-gritty.
How do I view info for the survey response I am looking for?
Viewing responses starts on the Response List. Fire up this page and, as always, you can use filters and date range settings to whittle down the responses that are returned.
When you find the response that you are looking for in the list, click the 'View' button for that particular response:
How can I view survey response information?
We offer several different ways to view response data and these can be seen when clicking the 'View' button for a response: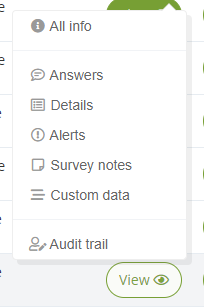 As you can see, you can either view all the information in one go or hone in on just the part you need. Each data type is explained below.
Answers
These are the answers that a survey respondent gave. If they only partially completed the survey, you will see fewer answers on this screen. If you are viewing an IVR survey response and it contains a verbatim (speech to text) question, you can also playback and download the original sound file from here, using the buttons next to the transcribed text.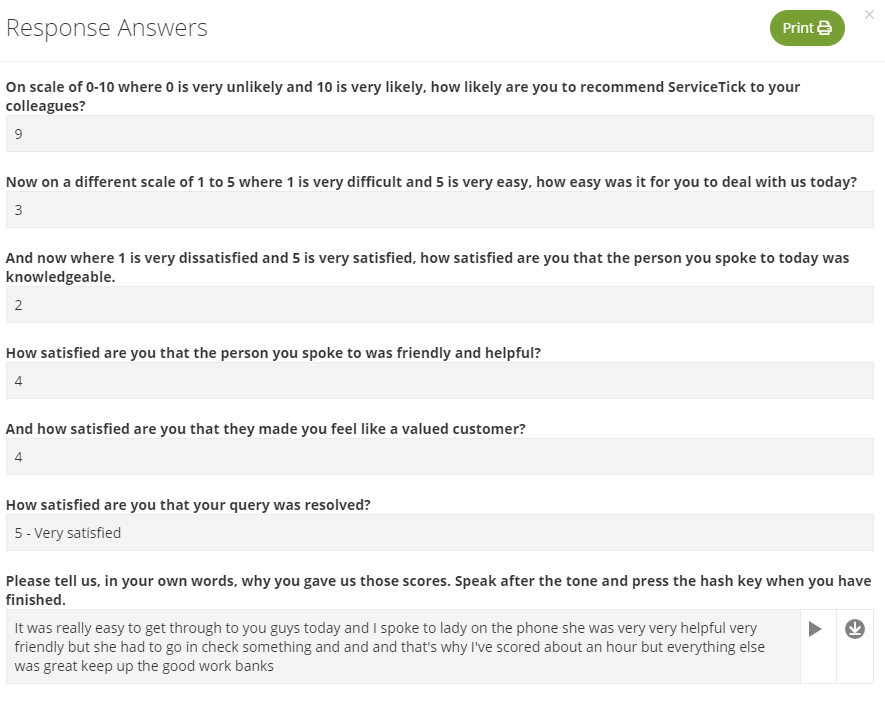 Details
In addition to the information seen on the Response List (date received, team member information and alert status), this will tell you all the filters that this response is attributed to. Naturally, this will be dependent upon your company's setup, but in our example, we can see the touchpoint this response relates to, which location as well as which brand.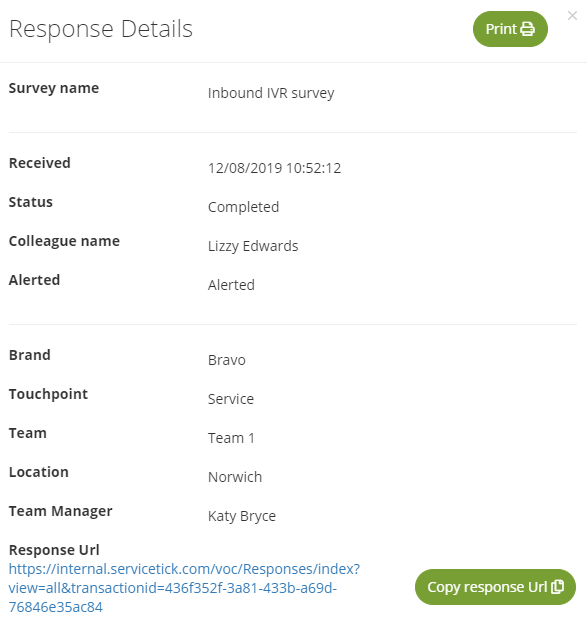 Alerts
This shows you more detailed alert information. The summary indicates if a response was alerted upon or not, but this tells you which alert, who was notified and if the alert is open or closed.

Survey Notes
This section allows you to add/view notes that have been made on the response. The ability to have survey notes can be given to select individuals and is a handy way of jotting down reminders or pertinent information, for example, "I called the customer back and their concerns are now resolved":

Custom Data
In addition to filters, we can store other required information and attribute this to responses. These 'custom data' fields are configured when you get started with ServiceTick and are filled out before you send surveys to recipients. Specifically, these are either completed as part of the Adept process, or as columns in your bulk files. For a complete rundown on ways in which surveys can be sent, click here.

Audit Trail
We can enable select users the ability to edit survey answers, details or custom data if required. This section shows you any edits that have been made and by whom. For more information on this, check out the editing and deleting responses article.
Ready to put this into practice?