What is the dashboard?
The dashboard is your landing page and acts as a central hub for data that means the most to you. The dashboard is highly configurable and can be tailored to suit the requirements of your organisation, so your most important metrics are always in plain sight.
How do you access the dashboard?
Accessing the dashboard is as easy as logging into the ServiceTick console – it is the first page that greets you. If you'd like to return to the dashboard from any page, this can be done by clicking the

icon in the side menu.
The dashboard explained: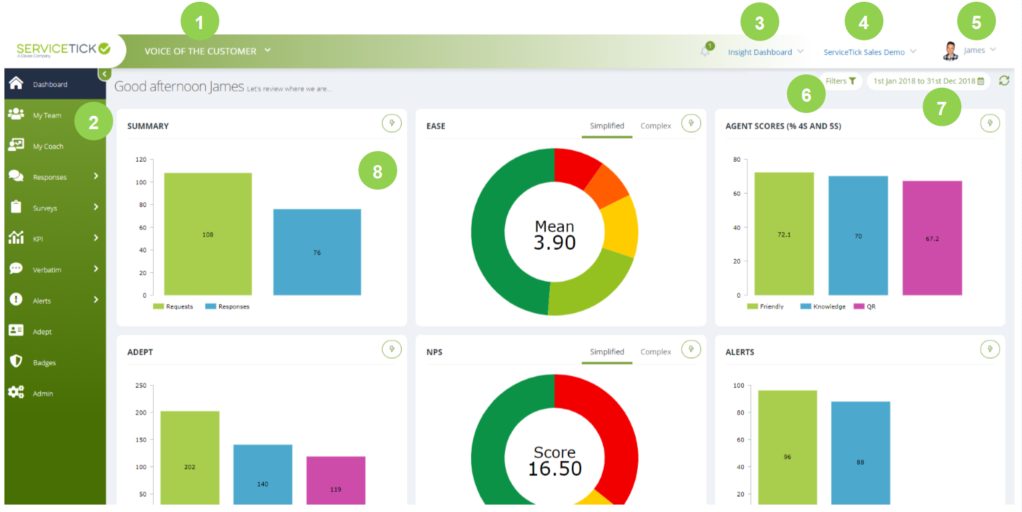 1. Console title and app switcher
We currently have three distinct products that comprise the ServiceTick platform: Voice of the Customer, Voice of the Employee and Social Tracker. The current product that you are viewing will be displayed in the header bar. And if your organisation subscribes to more than one of these, this also serves as a handy dropdown to switch between them.

2. Side menu
This menu contains all the console pages that you have access to. Clicking on an item will take you to that page, or any with arrows will expand to show a submenu of pages within that section.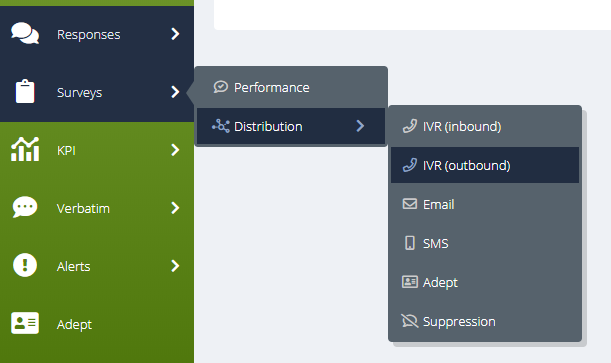 3. Dashboard switcher
The name of the Dashboard you are currently viewing is displayed here. If you have more than one Dashboard there will be an arrow next to the Dashboard name. Clicking this will expand a menu containing all the Dashboards you have access to. Selecting one will take you to that Dashboard.
4. Subscriber switcher
The name of the ServiceTick subscriber you are currently viewing will be displayed here (in most cases this will be the name of your organisation). If you have access to more than one organisation's data, or if your organisation's data is split across multiple ServiceTick subscribers, there will be an arrow next to the subscriber name. Clicking this will display a list of all subscribers you have access to and selecting one will load that subscriber's data.
5. My Account
This is where you can access/edit information relating to your user account, set up custom views and download response exports you have previously requested.
6. Filters
This menu allows you to select and apply filters to your data, which are handy for segmenting data for analysis or narrowing down a search. These filters are defined when your console is initially configured.
7. Date range
This menu allows you to change the date range you are viewing data for. This date range can be one of your choosing or you can choose from one of our presets.
8. Widgets
Widgets define how you view and interact with data on your dashboard. We have a wide range of widgets available, meaning we can display data in a way that is appropriate and helpful to you. Widget configuration is defined during the initial setup of your console and can be tailored to your requirements.
Ready to put this into practice?